The Sea Garden in the Town of Varna- an important tourist attraction and a national monument of landscape architecture.
Varna`s largest, oldest and best known public park is situated along the Black Sea coast and is mentioned to be one of the important tourist attractions and a national monument of landscape architecture, as well. Unthe middle of the 19th c. this place was a bare field outside the city walls.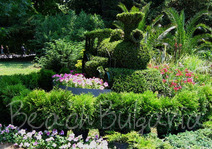 In 1862 the City`s Ottoman Mayor ordered the following: a small garden had to be arranged for the people who live in Varna. After the Liberation of Bulgaria in 1878 the mayor Mihail Koloni suggested the arrangement of a city garden and a seaside park in 1881. Although there were some suspicions, a small su
m of money was granted to the plan of French engineer Martinice. As a result the Sea Garden was expanded to 26 000 sq. m. But at the same time another project was proposed.
It was suggested the busts of outstanding Renaissance figures to be placed in some of the garden`s alleys.
In 1930 species from the Netherlands, Germany, the Czech Republic and France were palnted. the garden was expanded to the south to reach the house of the Italian consul Assaretto (the house is Varna Naval Museum today). The garden reache dits present borders in the 1950s and the trees in teh center of the central alley were substituted with flower beds in the 1960s. During that time the garden reached 20 000 sq.m. In 1939, the garden`s modern central entrance with a wide plaza and tall columns was designed by the architest Georgi Popov. The Seaside Garden shelters an amphitheatre, an astronomic site with an observatory, planetarium with a tower,children playgrounds, a pool with water wheels and a zoo. There is a small cha
nel,where one can practise rowing.
An interesting fact is that the beach, where one can find mud and water therapy complexes, two quays, numerous restaurants and disco clubs, is just beneath the Sea Garden. The Dolphinarium which is located in the Sea Garden is one of the favourite attractions for children and guests of the town. The Festival Complex can be found just opposite the entrance of the Sea Garden Park. It is a modern building of aluminium, stone and glass and has several stages, conference halls and a big bazaar. The Sea Garden is a place where everybody can relax and spend wonderful time.